1 comment | post a comment


---
| | |
| --- | --- |
| Date: | 2011-02-20 21:14 |
| Subject: | Portlandia |
| Security: | Public |
Maybe the greatest sketch comedy show ever made.


post a comment
---

1 comment | post a comment


---

1 comment | post a comment


---
| | |
| --- | --- |
| Date: | 2010-09-09 11:09 |
| Subject: | Phone stuff |
| Security: | Public |
My T-Mobile contract is almost up. Despite the relatively shitty network (Verizon's is the best, let's face it), I'm thinking of signing up with them again. They offer free tethering, and the Android OS on their phones is basic, simple and not bogged down with proprietary UI bullshit, like Verizon and ATT love to do. Also Verizon and ATT just seem a little bit more evil.

So I'm thinking of this, the HTC G2:



It's only 800 Mhz, but they say you don't need a Ghz. Clock speed is not everything, and also camera MP is DEFINITELY not everything (this has 5). Also HTC is great.

My other choice is to stay on a month to month, keep my current Nexus One (which I ADORE) for as long as I can, and see what the best phone is on whatever network. It probably won't be ATT, they're not too big on Android, and I've never been too excited with Sprint, so it will probably be on Verizon or T-Mobile.

And I will never get an iPhone...... well, probably never.

3 comments | post a comment


---
| | |
| --- | --- |
| Date: | 2010-08-16 13:38 |
| Subject: | Oh my god |
| Security: | Public |
www.whatisicarus.com

1 comment | post a comment


---
| | |
| --- | --- |
| Date: | 2010-07-06 15:53 |
| Subject: | Heat |
| Security: | Public |
If you wanna go outside right now you're fucking insane.

Also, iPhone 4 Death Grip:


5 comments | post a comment


---



This is EXACTLY what Android has had to suffer with.



7 comments | post a comment


---
| | |
| --- | --- |
| Date: | 2010-06-24 16:59 |
| Subject: | |
| Security: | Public |
LIST OF EMERGING TECHNOLOGIES

1 comment | post a comment


---
New prime minister of Finland is hawt. Here she is doing something with an anvil.


post a comment
---
| | |
| --- | --- |
| Date: | 2010-06-08 13:30 |
| Subject: | iPwn |
| Security: | Public |
I think the new iPhone is gonna be awesome, and will inevitably lead to millions of people now doing video phone conferencing. Also, I think if every mobile phone manufacturer in the world, whenever they released a new phone, sent their CEO up on a stage in a black turtleneck and jeans to rapturously introduce it to the public, with a screaming audience, then mobile telecommunications would be the single most profitable industry on the planet.

10 comments | post a comment


---
| | |
| --- | --- |
| Date: | 2010-05-30 10:56 |
| Subject: | |
| Security: | Public |
post a comment
---
Oh shit..

http://www.nypost.com/p/news/national/rebel_icon_hopper_rides_into_the_g0kEJB8npO10E7Vrsjc8YP

Better raise a can of PBR.
post a comment
---
| | |
| --- | --- |
| Date: | 2010-05-24 02:04 |
| Subject: | LOST |
| Security: | Public |
Spoil... no... no spoiler warning needed here. The writers spoiled this show enough by writing that shit ending.

They explained NOTHING. They pretty much promised that everything would be explained, some years ago I believe, and I was hoping ever since hearing that for a coherent and enlightening final season - I guess they meant only the things that they and their pansy, sappy romance novel reading friends cared about would be explained, and not the things that were actually interesting to everyone else - the Dharma initiative, the actual, physical origin of the smoke monster, the entering the numbers into the computer... all of that will now never be officially explained in the series. They dropped it all in favor of a simple-minded plot that was only introduced at the beginning of this last season - their flash sideways was actually their death/purgatory.

The writers had become so used to writing filler that, in the end, filler was all they could remember how to write.

Furthermore, I couldn't have watched it in a more annoying environment. A friend kindly threw a Lost Farewell party, and it was fun. However, as anyone whose heart is bigger than his head would do, he invited just anyone, people who weren't really into the show, and even one person who outright HATED the show because it required him to think too much (I can only imagine what he would think of The Wire). One of our more die-hard Lost fans actually had to shout at this guy, "SHUT UP," for all the Hurley's Fat jokes he was loudly spouting in between slurpy gulps of PBR. I and this faithful fan friend were the only two who could actually sit and watch it without getting up for a smoke break, later to rush into the room in the middle of a dialogue between Desmond and Jack, insisting to be filled in on what they missed, because they needed that 7th or 8th cigarette or bathroom break.

But even if I watched this in a confined environment, with phones off and windows drawn, I would have been throwing empty beer cans at the screen. I finally gave up after the 2nd hour of the 2.5 hour long episode waiting for the episode to actually START. Evidently it wasn't clear enough what happens when one character touches another. It really did help me a lot, thank you JJ Abrams etc., to show me over and over again that characters view their lives on the island when that happens. Thank you for holding my hand through this impossible-to-grasp concept, because you see I AM a retard, and I watch ABC, shop at Target, and have only read Nancy Drew novels my whole life.

I feel more sorry for my other friends, though. When I watched this show, it was as an excuse to hang with my Philly friends, and as a break from my pretty busy life. So I at least got to do THAT while enduring this complete detritus, whereas other people actually dedicated a great deal of their lives to this show, even insisting on watching it alone in their bedrooms in order to concentrate and soak in every detail, all the better to sharpen their theories to discuss with coworkers and so on. THOSE people were robbed tonight, and I'm happy to say I'm not one of them. In fact I had found myself literally incapable of caring anymore about what happens in this show, sometime towards the beginning of this season. I just had a deep gut feeling that it wasn't worth understanding or puzzling over, and now I know how right I was. Oh, and apparently the creators promise to deliver answers after the finale. Yeah... I honestly don't care enough to hear them. Any faith I had in the makers of this show vaporized when they decided not o put those answers into the actual show itself.
post a comment
---
This is just so weird


post a comment
---
Ridiculous techno song is ridiculous:

p e a c e FIRE - Baghdad Rainbow (Keenhouse Remix).mp3
post a comment
---
TURKANA BOY
post a comment
---
| | |
| --- | --- |
| Date: | 2010-05-03 12:46 |
| Subject: | |
| Security: | Public |
4:25. :)


post a comment
---
| | |
| --- | --- |
| Date: | 2010-04-29 22:40 |
| Subject: | |
| Security: | Public |
post a comment
---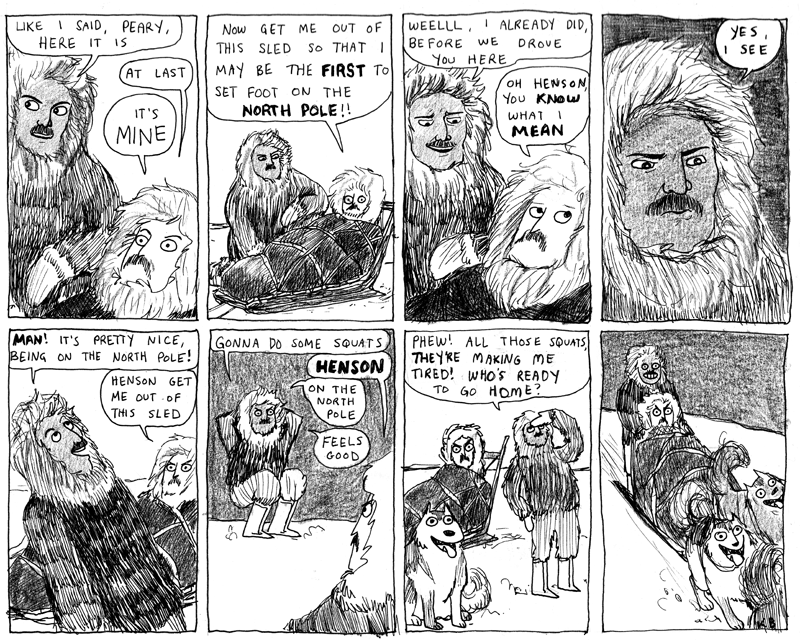 http://www.harkavagrant.com
post a comment
---